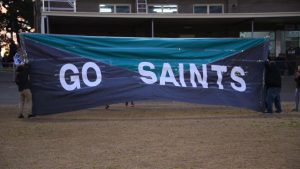 It is hard to believe for some of our teams their season has now ended and other teams only have a few weeks to go.
As always we thank all of our Club volunteers who work tirelessly to get players and teams on their respective courts/grounds.
This weekend we commence our 2016 Presentation Day/Nights –
Under 9-12's – Sunday 21st August
• U9 – 9 am
• U10 – 9.30 am
• U11 – 9.50 am
• 12 – 10.20 am
13U Netball – 4:15-5:45pm Wednesday 7th September
U14 Football – Friday 2nd September
15U Netball – 6-8pm Wednesday 7th September
U16 Football – Friday 9th September
Colts & 17U Netball – Sunday 9th October
Seniors Football and Netball – Friday 7th October
Go Saints!!!