GFL 2017: Jason Armistead leads list of new assistant coaches at St Mary's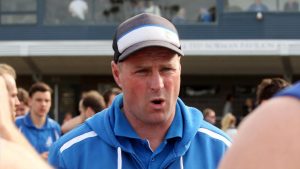 ST MARY'S has strengthened its off-field position with the signature of former Anglesea coach and South Barwon premiership player Jason Armistead as assistant coach.
Armistead joins good friend and former colleague with the Geelong College football set-up, Troy Mitchell, who will lead the Saints as sole senior coach in 2017 after Bryce Vincent recently stood down from his co-coaching duties.
Mitchell will have a wealth of knowledge on the sidelines with him next year, with Russel McMahon joining Armistead and Kane Purcell at the club.
Former AFL defender Tom Gillies will also continue as a playing assistant coach for St Mary's, and Mitchell said the benefits of adding Armistead and McMahon would be great.
"As much as we want to invest in development, we've got to make sure we have the right people to get the message across," Mitchell said.
"Something I suppose we've been trying to do has been giving our players the best opportunity to become the very best players they can and we've got to get good people and folks with some massive experience to give them that opportunity to learn."
"Russell McMahon coached Newtown under-18s and has coached at St Mary's for years as well as V-Line Cup and Falcons football so he's coming in as a development coach, so that is just another experienced fellow with lots of different ideas so that will be good."
Armistead will be the inaugural Geelong Falcons under-18s girls coach next year but said while that was his focus, he still wanted to stay involved with senior footy and the chance to work with Mitchell again was too good to refuse.
"With the girls side that is my major commitment at the moment, but during the season I'll be helping out Troy," Armistead said.
"A lot of it has got to do with the fact we coached at Geelong College for four years together so I've got a really good relationship with Troy, and Kane Purcell, so Troy knows me pretty well and I know how he works.
"There are also a few College boys at St Mary's as well so it's going to fit pretty well I think. It's just an opportunity to stay involved with senior footy and to work with a guy that I respect pretty highly."
Story and image courtesy of the Geelong Advertiser.