GFL Netball 2017: Bruce Waldron announced as new A-grade coach at St Mary's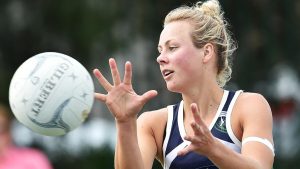 ST MARY'S netball coach Bruce Waldron doesn't need reminding about the enormity of the task he is undertaking at Kardinia Park West next year.
It was never going to be easy replacing the popular Renee Garing, but the Saints' A-grade assistant from 2016 is still excited about the challenge that confronts him and his team in 2017.
With Garing, a three-time league best-and-fairest winner, switching her focus to football, and star defender Zoe Donne out for the year with a knee injury, Waldron will be without two of St Mary's most important players that led them to third in the GFNL competition this year.
But with a large junior program and a host of key players still at the club, there is a sense this group can still contend with the league's best teams.
"I'm very excited, but Renee leaves a hell of a hole, obviously," Waldron said.
"But someone else gets a chance now, that's the upside of it.
"We also had Zoe Donne go down late in the season so that's two pretty big holes to fill but it's a really young list and we've got a lot of 18, 19 and 20-year-olds and a wealth of junior talent coming through, so I think we'll go down the youth lines.
"If we did recruit we'd be very selective, the club has got a great vibe about it so it's more about recruiting the right type of person I would say rather than filling a hole. We've got a lot of versatility in the A-grade team but if an opportunity knocks, I'm not going to knock it back."
The Saints looked every bit the challenger to South Barwon and Newtown during the season but were clearly hampered by Donne's injury late in the year.
They will look to Claudia Conway to give Kate Fowles some assistance in defence and Waldron said the youngster was ready to take the next step.
"She is very talented and will obviously be better prepared with a full pre-season," he said.
"She would have come up to A-grade from B-grade permanently this year anyway, and she is just a great athlete and probably doesn't realise just how talented she is, but Claudia is quite versatile and can play at both ends of the court, she is not just a goal keeper."
Story courtesy of the Geelong Advertiser