Under 14/16 Football Development Program for Jan/Feb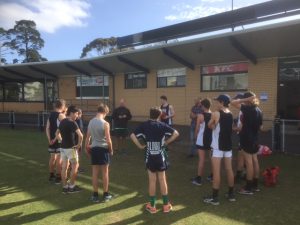 As part of the club development program launched in 2016, the club will again offer a free junior development program for boys in under 14 to under 16 level in 2017 . The program will commence on January 15, going through to the end of February and this program will lead nicely into our official season program due to start sometime in March (TBA) . The updated program can be found here.
The program is designed for boys wanting to improve their general fitness ahead of the season as well as their football skills when the weather & learning environment is more favourable. The club has been able to put together a team of coaches who are well credentialed and equally committed to helping our boys prepare for next season and beyond . The program is headed by Glenn Keast, former North Shore Coach who played and coached from 1995-2004 during one of North Shore's most successful periods. Assisting Glenn will be Travis Robertson, former North Shore premiership player, Geelong Amos premiership coach and multiple Werribee B&F winner. Both Coaches have son's playing at the club and are keen to help the club develop and improve what we offer as a junior program. Mark Boxer is in charge of the running skills and fitness area of the program, Mark has significant experience and has a long history with the club. These guys along with some other helpers  along the way are looking forward to the post Christmas 11 session program.
Any adjustments to the program will be posted on the club's web site & facebook page. Eg inclement weather, venue or time changes (we will try to make these as few as possible).
If you are aware of any other boys who are looking to join St.Mary's in 2017 who don't have this information please pass onto them.
If anyone has any queries in relation to the program please contact Kevin McMahon 0457 507 202 or Andrew Batson 0437 500 341
We wish you and your families a safe and Happy Christmas and holiday period.