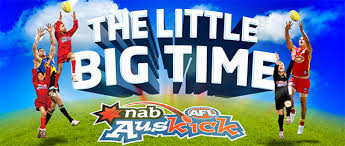 Welcome to all participating children and parents to Auskick 2017. Our sessions run from the 21st April, 2017 to 28th July, 2017. Please see below 'Season Schedule' for dates and activities. (subject to change)
Upon registration each child will receive a kit that is depicted within the registration brochure. This kit will be sent to you nominated address.
Our regular skills clinics will run from 5pm sharp to 6pm. Friday evenings (as per schedule) at the St Mary's Sporting Club, Kardinia Park West, La Trobe Tce.,Geelong, In the event of an AFL game being played on a Friday night, St Mary's Auskick will be held on an alternative night of that week. (Listed as Thursday 4pm – 5pm)
Although football is a wet weather sport, as in the past it has been decided that in the event of a wet Friday evening the particular clinic will be cancelled. Our usual indicator is that if it is raining at 4.45pm. in Geelong on the Friday, no clinic will be held.
Auskick is a volunteer run program. Our aim is to help children be interested in sport, to learn co-ordination skills, to be part of a team and above all to have fun without the emphasis on competition.
Parent participation is also encouraged to assist in their child's activities. I would appreciate as many parents to become involved in assisting in the various activities/drills that are undertaken. Our policy is for children not to be left at Auskick without parents being present at the football club during the sessions.
I look forward to an enjoyable Auskick working together with the children and parents alike.
SEASON SCHEDULE
Friday – 5 – 6pm and when needed Thursday 4 – 5pm
Week
Date
Details
1.
21st April
Information / Skills session
2.
28th April
Skills Session
3.
5th May
Skills Session
4.
12th May
Mother's Day Auskick / Skills Session
5.
18th May (Thursday) 4.00pm – 5.00pm
Skills Session
6.
26th May
Skills Session
7.
1st June (Thursday)

4.00pm – 5.00pm

Skills Session
8.
9th June
Skills Session (Queens Birthday Weekend)
9.
16th June
Skills Session
10.
23rd June
Skills Session
11.
30th June
Skills Session
7th July
School Holidays / Nil Auskick
14th July
School Holidays / Nil Auskick
12.
21st July
Skills Session
13.
28th July
Presentation Night
*Dates may alter due to Geelong Superclinic – held on a Sunday morning. Date to be confirmed.
Please to not hesitate to contact or speak to me if you have any questions or concerns.
Damian McKEEGAN
St Mary's Auskick Co-ordinator